---
A group of historical fencing Lucrezia was estabilished in October 1991. Since that time it has been working in village called Dolni Dobrouc under the lead of Michal Krejci.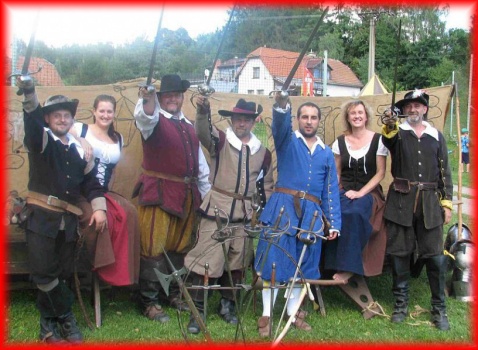 The group is doing the period of the Thirty Years' War. It means 17th century. In scripts, which are most of the time work of all members, people can see the fight with the sword, dagger, bowie knife, halberd, stick .... Simply with everything that ends up in our hands.
Our village:

Dolni Dobrouc is situated by the foot of Orlicke mountains, not far from neighbouring citites od Usti nad Orlici (9km), Letohrad (3km) and Lanskroun (12km).
It has got about 2500 inhabitans.
In our beggining we performed mostly of different events for childern. In yers 96-98 our perfomance could be seen on the state castle in Litice. We have perdormed in Italy, Germany a Poland.
The turning-point of our history was organising of the first historical battle­ "The invasion of swedish troops" in 1999. The battle had a big success and that´s why we were forced by fencing community and general public to organise another three
historical battles
.